7 Places to See the Fireworks North of Atlanta
There's no shortage of fun activities to do on July 4th! From neighborhood parades to backyard cookouts, Independence Day gives us more fun options than there are hours in the day. For those who want to celebrate the holiday with a bang, we've rounded up 7 of the best fireworks displays North of Atlanta!
1.Alpharetta's July 4th Fireworks at Wills Park: July 4th 7-9pm
Celebrate our great nation with your family under the stars watching a brilliant display of fireworks at Wills Park. This event is rain or shine!
Celebrate our great nation with your family under the stars watching a brilliant display o...
2. Cumming July 4th Celebration: July 3rd and 4th
Celebrate Independence Day with family and friends on Saturday, July 3rd! Cumming Fairgrounds will host a fun-filled evening from 4PM - 10PM, with a spectacular fireworks display to begin at 9:30PM. The celebration includes Music, Alcohol, Food, Games, Vendors, and various contests throughout the day.
3. Lake Lanier July 4th Celebration at Margaritaville, July 2-4
Not sure which night to celebrate? Margaritaville at Lake Lanier is celebrating BOTH Saturday and Sunday! Spend the day cooling off at the Waterpark (open from 10 am-9pm Saturday and Sunday) and stay for the fireworks show at 10:00! The Jonathan Ingram Band will also be playing at LandShark Landing from 8pm-11pm on Saturday and the Pick Up Line Band will be playing Sunday from 8pm-11pm!
Join us for the holiday weekend and enjoy family fun and live entertainment at LandSha...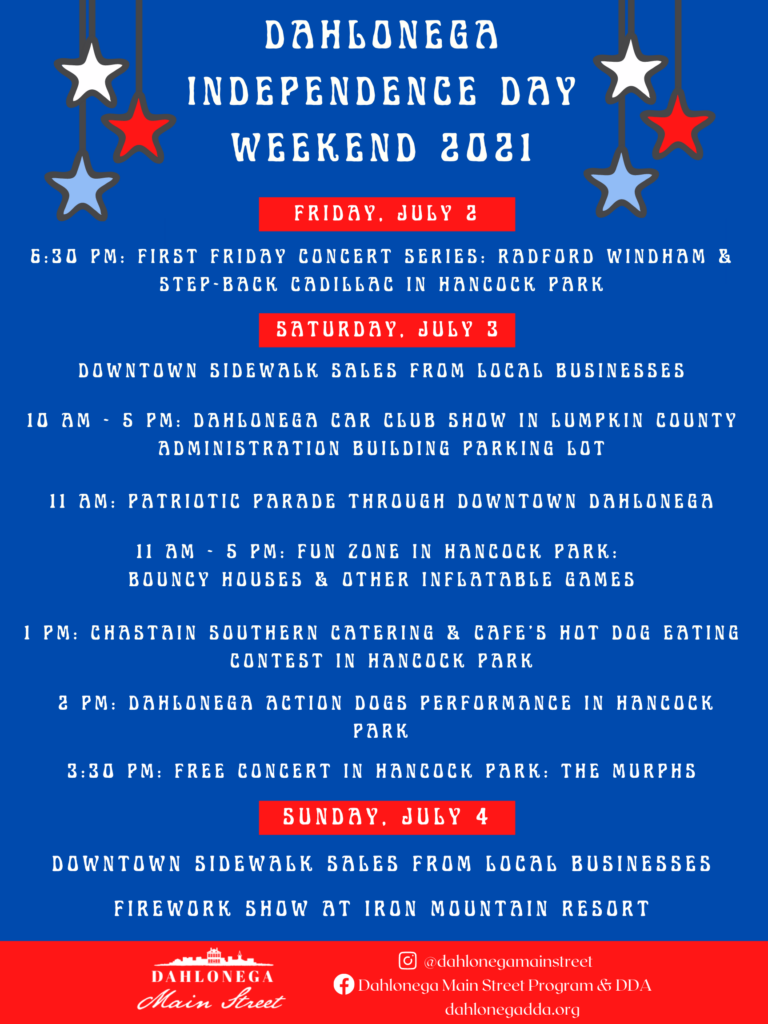 4. Dahlonega 2021 Independence Day Celebration, July 2-4
Come join the fun as Dahlonega celebrates another Independence Day in our beautiful historic district! Stroll through the Square and Hancock Park, which will be filled with local sidewalk sales and exciting games and activities for the whole family! The festivities start bright and early with a Firecracker 5K and wrap up just in time to enjoy one of Dahlonega's fabulous restaurants before heading to Iron Mountain Resort for a spectacular firework show! For a full schedule of the day please visit dahlonegadda.org or reach out on social media.
5. Stone Mountain Park Fantastic Fourth Celebration: July 1-5th
Enjoy a day full of adventure with great family attractions and live entertainment, then stay into the evening to experience the Lasershow Spectacular followed by the exact same patriotic fireworks finale each night of the celebration!
6. Annual 4th of July Fireworks Extravaganza at Roswell Area Park - Sunday, July 4
We can't wait to light up the skies over Roswell again on July 4! Join us at Roswell Area Park for live music, entertainment, and food trucks. Bring your chairs and blankets to spread out at one of several fireworks viewing areas throughout the park. Fireworks will start at sunset.
Join us at Roswell Area Park for live music, entertainment, and food trucks. Bring your ch...
7. Centennial Olympic Park Fourth of July Celebration in Atlanta - Sunday, July 4
The Georgia World Congress Center Authority (GWCCA), in partnership with event sponsor The Coca-Cola Company, is bringing its annual Fourth of July Celebration back to Centennial Olympic Park. Featuring the Southeast's biggest fireworks show, the Fourth of July 2019 Celebration at Centennial Olympic Park includes a variety of food trucks and a special set by DJ Yvonne Monet. Gates open at 7:00 p.m., and the fireworks start at 9:45 p.m.
Look no further than Centennial Park District, where you can celebrate July 4th from sun u...
Who You Work With Matters
Your home deserves this kind of attention. If marketing your home properly and finding the right buyer is important to you – we're here to help. Schedule a call with our team to discuss your property, and we'll share exactly what we can do to give you the best selling experience overall.
We've personally helped over 1000 buyers and sellers during our career. You can count on our experience to see you through the real estate process with ease and insight.