Meriellen & Stephanie break down the 2019 trends for you
Sharing great insight from the Inman News Article below, the Cole Team breaks down what's hot and what's not in 2019.

What's hot and what's not in 2019: Kitchen trends
Homeowners are remodeling their kitchens into the perfect in-home health oasis
BY MARIAN MCPHERSON Staff Writer OCT 13
EMBRACE. FOCUS. EXECUTE. Build your 2019 roadmap to success with 4,000+ real estate leaders.
Inman Connect New York | January 29 - February 1, 2019
Bathrooms, move aside — 2019 is the year of the kitchen.
HomeAdvisor's Smart Home Strategist and Home Expert Dan DiClerico said homeowners (especially first-timers) in 2018 focused their renovation efforts on bathrooms to accommodate the needs of a growing family. But homeowners are now moving their attention to the kitchen, where they're aiming to create an in-home oasis that reduces stress and boosts wellness.
"Wellness is going to be a huge theme for 2019," DiClerico said. "Many people are living longer, healthier lives, and they're looking to the kitchen to support those efforts."
DiClerico and National Kitchen and Bath Association Industry Relations Manager Elle H-Millard say homeowners are creating their wellness retreats by purchasing appliances such as blenders and steam cookers, connecting indoor and outdoor spaces with sliding glass walls and playing with earthy tones such as blue and green to create an overall sense of calm.
"The more muted emerald greens, almost like an earthy green, are taking off too [alongside blue]," H-Millard told Inman. "I spoke to someone else about those colors, and they read as neutrals because we see them so much in nature, and they come across as very positive optimistic colors."
"When we have times where we're uncertain with political things or whatever may be happening, we have the opportunity to then change [those feelings] up with design," she added.
Surprising rental market trends to watch in 2019Read the new State of the Property Management Industry Report READ MORE
A seller doesn't have to do a full renovation, but statistics show that small upgrades in areas such as the kitchen or bathroom can help a home sell faster, and blue rooms (including kitchens) can boost a buyer's bid by as much as $5,000.
Here's how your seller can create a wellness wonderland that will have buyers in nirvana:
Purchase appliances that help you cook healthy, faster
Steam cookers, professional-grade blenders, multi-cookers and drawers with built-in vacuum sealers will be all the rage in 2019, DiClerico said.
People are using steam cookers as a way to avoid using additional oils and butter, blenders for making smoothies and soups, and multi-cookers for whipping up batches of oatmeal, quinoa and other meal prep favorites.
"Manufacturers are really picking up on the wellness trend and trying to give consumers as many options as possible for cooking healthy meals at home in the kitchen," he said.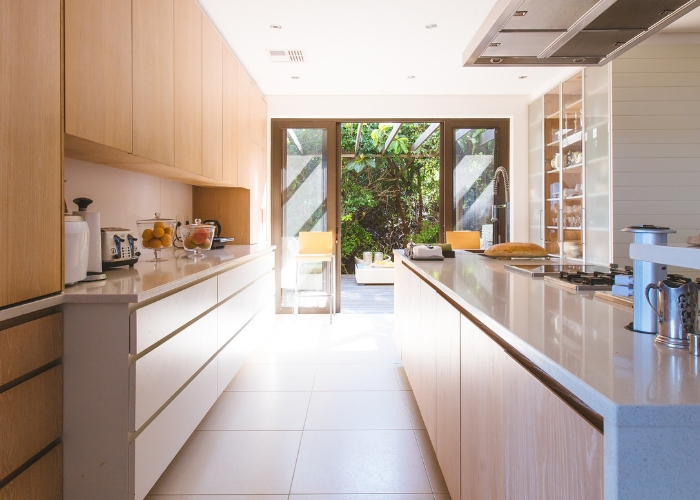 Photo credit: Jason Briscoe on Unsplash
Create blended spaces with sliding glass walls
"For years it's been about the great room, and we're seeing the pendulum swing away from that," DiClerico said. "So instead of connecting inward, I'm starting to see a connection with the outside."
Homeowners can create a blended space by installing a sliding glass wall that connects the kitchen to an outdoor entertainment area, which increases the livable space and is sure to impress guests. Beyond the "wow" factor, DiClerico says the natural light can help regulate sleep cycles and improve moods.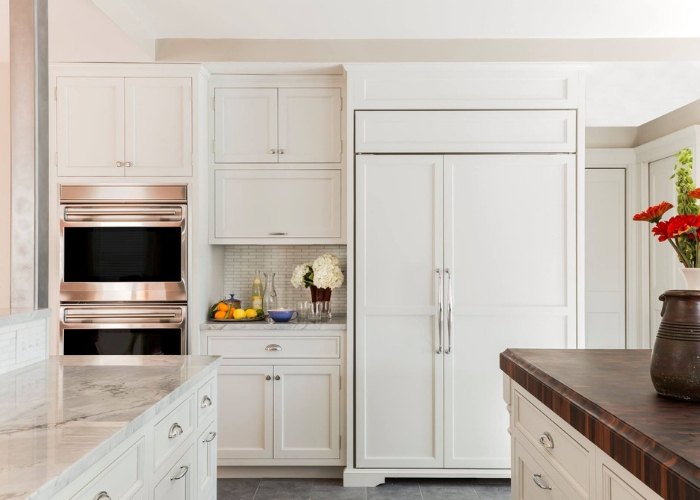 Photo credit: Venegas and Company Facebook
Maximize food storage space with a column refrigerator
Column refrigerators, which allow you to pair any size refrigerator column with any size freezer column, have been popular at the luxury end of the market, and they are finally gaining market-wide popularity.
DiClerico says these refrigerators allow homeowners to maximize food storage based on their needs. Want to focus on eating more fresh foods? Choose a larger refrigerator column that can accommodate large quantities of fruits and veggies. Do you rely more on frozen options? Then, up the column size of your freezer. Easy peasy.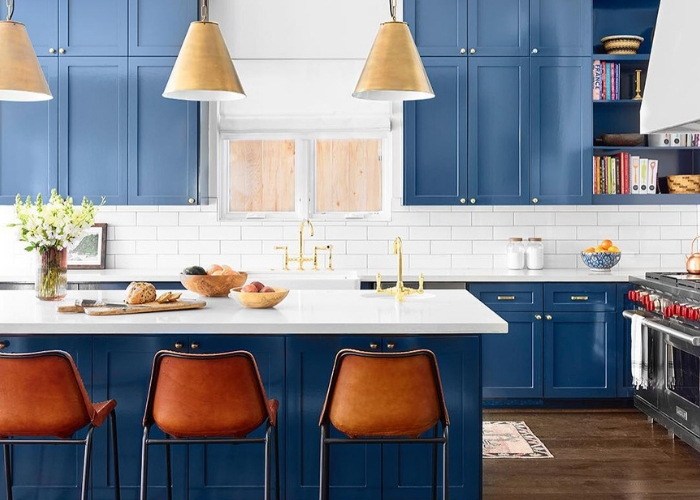 Photo credit: Trish Ireland Interiors Facebook
Create a serene scene with blues and greens
DiClerico and H-Millard say the all-white kitchen isn't gone, but blues and greens are gradually taking over. H-Millard says homeowners are slathering their cabinets with denim, navy and washed-out blue hues and accenting them with ombre metal finishes, such as a gradient from brass to stainless, create a stunning visual.
If you need an extra bit of color, both experts say manufacturers are producing plenty of bold-colored stoves, fridges and accessories to punch up the space.
Use technology to create a fully-integrated space
H-Millard says homeowners are still obsessed with voice-activated technology, but they're using the technology to help facilitate their wellness goals. Need to instantly wind down? H-Millard says homeowners can install voice-activated blinds and lights to instantly create a certain mood. "You can tell your blinds and lights to make it feel like 5 o'clock," she said. "It's really amazing."
Furthermore, she says baby boomers, in particular, can use voice-activated lighting to help change the temperature of kitchen lights to help reduce glare and even boost their appetite.
"As you age, your eyes [process colors differently] so blue reads more as an aqua, and you see more yellow tones, so meat starts to look very unappetizing," she said. "So we're looking at warming up the space so that food looks appropriate and appetizing."
What's on the way out (sort of)
Marble, granite and stainless steel are losing their popularity, but they're not gone just yet. Instead, homeowners are using quartz and black stainless steel, which are easier to maintain and keep clean.
"There's always going to be a market for them," DiClerico said.